Optima Pool Table
Sorry, there is no stock for this product currently available.

The Optima Pool table is available in Black, walnut, dark walnut and light oak laminate finish with solid timber polished legs.
This stylish table will suit any location.

As used in the following major competitions

AFEBAS
European Blackball Association's World Masters
Jersey Pool Festival
Isle of Man European Championships
French Grand National
Scottish Pool Tour

Select from the following options

Freeplay - balls return automatically
Mechanical - mechanically coin operated
Multicoin - electronically coin operated

For more information on these options click on the Information link.

• Available in 6' & 7' sizes.
• Interchangeable drawer units offering Freeplay,Mechanical or Multicoin
• Secure cash storage unit.
• Precision 19mm ground slate.
• Metal top frame corner,brass or chrome.
• Solid timber turned & polished legs.
• Quick release cushion fittings.
• Metal trim on the ball return aperture and on the cushion edgings, brass or chrome.
• Adjustable metal feet for ease of table levelling
• One or two piece matching hard top (18mm) available.
• Quality Hainsworth 100% wool cloth.
• Choice of 4 standard cloth colours.
• Additional cloth colours available, please visit the cloth page.
• Supplied with balls, 2 cues, triangle & chalk.
• Delivery and professional installation services available (mainland UK only).
• Made in England.

| | |
| --- | --- |
| | Light Oak |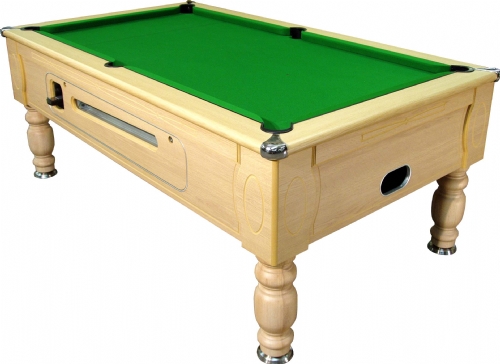 Pool Table Standard Cloth Colours
| | | | | |
| --- | --- | --- | --- | --- |
| Green | Red | Blue | Burgandy | Other |
If you are buying one of our
other cloths
for your table, please click other cloth,
select table, then select cloth upgrade